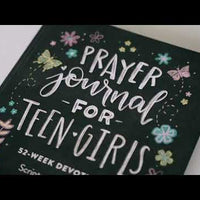 Prayer Journal for Teens Girls
Description
About the author
Details
52-Week Scripture, Devotional, & Guided Prayer Journal
Perfect for girls 13 and up, this 52-week devotional and guided prayer journal includes Scripture verses, reflections on the Word, and journaling prompts that will help teen girls feel more confident navigating life's challenges and remember that God is with them every step of the way. 
From bestselling author Shannon Roberts, author of Prayer Journal for Women (more than 750,000 copies sold), comes this new devotional and prayer journal. As the mom to a young woman herself, Shannon has witnessed firsthand the challenges teen girls face these days, from insecurities and self-doubt caused by social media to peer pressure from friends and at school. Growing up today isn't easy, but Prayer Journal for Teen Girls gives young women a spiritual compass so that they can lean on the Bible for whatever they are facing each week and know God's Truth will guide them every step of the way.
Shannon is a chalk artist and the founder behind The White Lime. She started drawing in her free time while raising her kids, and her business became a quick success. Her chalk art can be found in stores such as Home Goods, Hobby Lobby, Hallmark, and Khol's. Find her on Instagram: @shannonroberts19.
Paperback
232 Pages
8.9 x 1.02 x 10.35 in
ISBN: 978-1950968763
Take a look inside…
Page through an interactive excerpt of this book to enjoy a preview of its content, design and more.