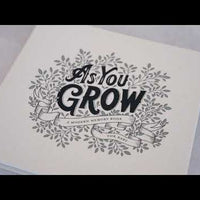 Description
About the author
Details
By Korie Herold
A modern memory book for baby
Your baby's first album, minus all the time consuming scrapbooking. As You Grow has all of your newborn's important milestones laid out for you up to age 5! All you have to do is write them down and add your favorite photos.

The simple formatting and timeless design ensure that your baby's memory book will never sit idly on a shelf. You'll never miss documenting important details, and because it's so elegantly designed, you'll want to display your baby's first album even while you're still writing their story.

Preserve their little life in this newborn memory book to reminisce when they're not so little anymore. 

Sections include:
• Pregnancy to birth
• Baby's first weeks
• Baby's first year
• Development to age 5
• Firsts, milestones, and precious, sweet, and silly moments to remember
• Lined pages for journal entries and letters for your child
Special Features:
• Chic, gender-neutral design
• Elegant linen cover
• Acid-free and archival paper
• Generous 9.75" x 9.75" trim size offers ample space for photos
• Lay-flat design allows you to easily write in the book
• A pocket to safely store keepsakes
• Carefully developed designs and prompts allow to you reflect and celebrate
Korie Herold is an artist who explores watercolor, hand-lettering, design, and visual interest. She lives in Kingwood, TX with her husband, Joel, and her two boys, Xander and Jonah. She loves brunch, fresh flowers, and connecting with others. She enjoys making her house a home, and thinks the home is such an important place to nourish. Find her on Instagram @korieherold.
Hardcover
160 Pages
10.7x 1.49x 10.14 in
ISBN: 9781944515478
Take a look inside…
Page through an interactive excerpt of this book to enjoy a preview of its content, design and more.